"Lexiploigissi" is an educational software that involves the development of written corpora, electronic dictionaries and exercises to enhance students' reading and writing abilities in six different school subjects.
It is part of the school curriculum in the three grades of Upper Secondary Education in Greece. The application seeks to create exploratory learning environments in which digital sound, image, text and video are fully integrated through the educational platform. It aimed to promote collaboration among users as well as an interdisciplinary approach to the teaching of all school subjects.
The components of the platform are the following:
Lexicographos:
It is an electronic dictionary that encompasses 1000 terms-entries distributed in six thematic areas: informatics, biology, economy, political science, literature and aesthetic education. The elements that have been included for each entry are: thematic area(s), definition(s), related word(s), link(s) to text(s) and multimedia material from the library.

Multimedia library:
It consists of almost five hundred texts, all written by specialists in the fields. It also comprises a number of literary texts so that the students can draw everyday and poetic meanings and definitions of the words for their dictionaries. In addition to texts, the database contains a substantial number of multimedia material: pictures, drawings, sounds animations and videos.

Database of exercises:
It gives users the opportunity to consolidate their knowledge in the different areas by testing their semantic comprehension of the terms.
All the components of the platform are open to the users to add their own material. An internet component allows collaboration and exchange of information among students of different schools.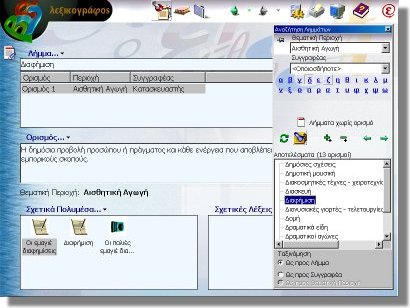 '