Ark4 is a cooperation project between four Institutions of Trondheim and a Digital Research Center from Athens, Greece. The purpose of the project was to create a digital heritage library of games that allowed users to access the content of archives in an interactive mode and support learning. It has opened up a space of dialogue between the common user and the institutions involved.  
The NTNU University library of Trondheim, and especially its Gunnerus branch is the oldest Scientific Library in Norway established in 1768 and holds rich special collections of manuscripts Libri Rari, pictures and different archives that have been trusted to its care since the 1760s. It plays an active role in the production of academic knowledge as a University library and through its ongoing digitalization program of its archives and special collections with free online access (see Gunnerus.no). Its public has been NTNU students and researchers, scholars from other parts of Norway and Scandinavia, local history experts, journalists and writers.
In order to reach a wider public, NTNU UB has had several research projects since 2012 that have been communicated and presented through an extended network of researchers, academics, university students and school classes and teachers and has been collecting user data on the use of such resources, through international research collaborations as MUBIL and ARK4.  The main research objective for ARK4 was to study the possible implications of the use of technological platforms, social media and the web as information provider to its users.
It`s scope was to collect user data as to how and why such tools can be used by libraries, archives, and become embedded in their outreach activities for teaching and assisting their users in retaining, organizing and evaluating information that is available on line.  ARK4 has established a new collaborative concept of interactive workshops with focus on the use of emerging technology as a new dissemination path between the institutions involved and the users. The project started in 2014 with the development of digital game software used by all collaborating institutions.  
During the first year, ARK4 developed 3 workshop applications for multi-touch screens and several workshops (see ARK4 report 1), based on the same software developed by the Department of Information Science, IDI NTNU for the project itself. The prototype has been tested by several groups of users and have been published in several blogs and conference papers. ( see workshops and publications section in this report). 
In its second phase ARK4 established an interactive library platform of heritage in collaboration with its partner from Greece, Digital Curation Unit, Athena Research Center (DCU) and Europeana research. Our common aim in phase 2 was to explore the possibility of creating an open source game platform, where all of games would become accessible to the common user. The products have been shared with teaching communities, museums, archive institutions, academics, and students and workshops and demonstration stand s have been organized for their dissemination.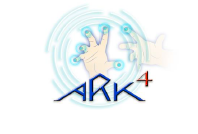 '